Infusing context from everyday life, Huanle Huoban is a unique core textbook series for students learning Chinese as a second language. This series provides a relatable and engaging learning experience using a comprehensive suite of print and digital materials.
Build students' interest through ample practice exercises and activities that focus on developing the four essential language skills:
Listening | Speaking | Reading | Writing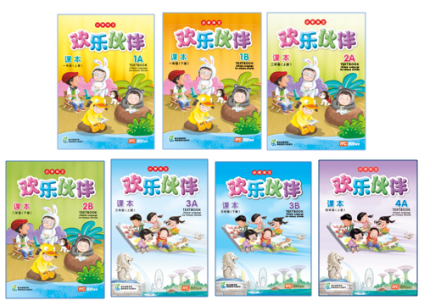 Huanle Huoban (Happy Pals) embodies teaching and learning of the highest quality for second language acquisition. With texbooks, activity books, writing books, readers, supplemental materials and teaching guides, this series uses a thematic approach and a cultural context, so that learning Chinese is fun. Students will also develop life-long skills that build confidence. Huanle Huoban is used in all of Singapore's schools and is widely adopted by schools worldwide.
Achieve mastery with a thematic + scaffolded approach
Using a thematic learning approach, lessons are structured around relatable themes such as personal, family, and school life. This approach cultivates a strategic learning mindset and develops language proficiency. Each chapter has vocabulary and reading passages closely aligned to themes. Through these, students will improve their comprehension skills and build strong connections to real-world situations.
Each section throughout the textbooks has a lesson that revolves around the same theme, so that they are all closely related to one another.
Textbook Lesson Components:
Oracy Theatre focuses on developing students' oral communication skills and vocabulary. Throughout the pages, students will notice Pinyin Castle, which teaches the Hanyu Pinyin (Chinese phonics) of some vocabulary words learned in Oracy Theatre.
Literacy Playground focuses on reading, writing and more importantly, the recognition of Chinese characters. In this section, students learn the form of Chinese characters and acquire reading skills.
To further develop reading skills, each lesson provides three reading sections that build progression: Introduction (强化), Core (核心) and Enrichment (深广). This is essential for differentiated instruction in classroom and teaching students with varying learning abilities.
Series Components
Activity Book: Students consolidate learning with practices written based on the learning objectives. View samples.
Writing Exercise Book (Only for grades 1-3): Practice writing the correct stroke order of Chinese characters.
Big Books: Oversized Big Books are designed for teachers to use in group activities that focus on listening and speaking skills.
Small Readers: Use for independent reading or supplemental learning
Teaching Toolkit + Resources: Complete with PDF Teacher Guides and Digital Resources with video lessons. Both resources compliment the printed textbook.
---
Learn Online
Huanle Huoban includes a dedicated digital resource portal developed by the Singapore Ministry of Education, which plays a crucial role in language learning. Corresponding to the main sections of the print books (Oracy Theatre, Pinyin Castle and Literacy Playground), the rich audio-visual resources can be used during remote or classroom teaching to enhance students learning experience. These digital tools enable students to conduct self-directed learning and consolidate their understanding during or after class.
---
Aligns with ACTFL Five C Goal Areas
Communication
This series aims to develop students' abilities to communicate effectively, emphasizing on listening and speaking skills. In each lesson, students build their listening skills through animated stories and songs presented in Oracy Theatre, which is supplemented by thematic maps that illustrate the scenario. This allows students to learn vocabulary and sentence patterns in context while providing them with ample opportunities to practice interacting and communicating in Chinese.
Cultures & Comparisons
Huanle Huoban introduces learners to Chinese literature, important characters of the Chinese culture, traditions and festivities through real-life contexts. As students compare and acknowledge cultural differences, it shapes their worldview and encourages them to appreciate the uniqueness between different cultures.
Connections & Communities
Students are actively encouraged to make connections and expand their knowledge of other disciplines while using the language. Themes related to geographical, historical and scientific content are also explored within the series. At the end of each chapter, the 'Real-Life Application' section focuses on activities and tasks for students to apply what they have learned to real-world situations and encourages the exchange of ideas with the family and friends.
Boost Confidence in International Curriculum + Benchmarks
In each level, students learn to recognize about 300 Chinese characters and write 200 Chinese characters. These words are primarily selected from the frequently-used characters, which are commonly found in newspapers, magazines and children's publications. At the end of the entire series, students will be equipped with the knowledge of around 1800 Chinese characters, meeting international benchmarks HSK Level 4 and comparable to ACTFL Guidelines Advanced Low Level and IB Chinese B Standard Level. This drives students to be confident and eloquent Chinese learners.